DJ Discos and Karaoke
At Paul Donnelly Services Limited we pride ourselves on our range of mobile discos not just in or around Wales but across the UK. We can cater for any event, from an intimate gathering of friends, your wedding day, birthday party, Christmas party, New Years party or to what we do best specialist corporate events. Whatever the size of the event we will make sure it is one that you remember.

We can provide a top quality mobile disco to anywhere in Wales, across England, London, Northern Ireland, Scotland and through out the whole of Europe.

We have a large range of mobile discos and DJs to suit every need and can of course fulfil all your requirements.

We have spent time listening to our clients and improved our discotheque packages taking the standard of the equipment we use and the presentation of our shows to the next level keeping our discotheque standard above our competitors :
Video DJ
New to Paul Donnelly Event Services is the latest innovation in mobile discotheques, the Video DJ! Your host will play hits from the 60's through to today's chart and the videos are displayed on our big screens. Perfect for giving your event that "Wow" factor. We can also run a live feed of the dance floor through the screens to spread the excitement for your guests and add extra atmosphere. Your company logo or any photographs of your choice can also be displayed during the early part of the event, perfect for company events and even weddings.
Wedding DJ Disco Packages
Paul Donnelly Event Services Limited can provide you with completely stress free wedding packages with easy add-ons which you tailor to suit your own requirements.

Our packages have been designed to help you save money therefore when any of the easy add-ons are booked with one of the wedding packages you are getting a great saving compared to booking things individually.
Silver Disco Package
The Silver Discotheque is our standard and most popular package for the smaller more interment gathering. It comprises an 1.4k watt sound system and five effects washing colour all around the venue. Dazzling effects are created using intelligent lights making this an outstanding display, sound package and value for money.

Recommended for parties of up to 80 people.
Recommended for parties up to 80 guest or when space is an issue
A high quality 1 thousand watt EV sound system with a Shure wireless Microphone.
4 Intelligent lights on a T-Bar stand system
A Star Cloth Booth
Power Requirements - 1 x 13amp independent sockets minimum
Gold Disco Package
The Gold Discotheque is for that special event or when you want to go that little bit further than the norm. It has six intelligent effects creating amazing vibrant colours and moving effects, set up on a wind-up overhead goal post system being supported by 2000-watt sound system. Certainly an amazing looking and sounding disco.

Recommended for 60 up to 150 guests.
Recommended for parties from 60 up to 150 guests
A high quality 2000 Watt EV sound system with Subs and a Shure wireless Microphone.
A Star Cloth Booth
A 4 Metre truss goal post system
4 Moving Heads
2 High powered led cans
Power Requirements - 2 x 13amp independent sockets minimum
Platinum Disco Package
The Platinum Discotheque is a show which will leave you and your guests breathless, for its size and quality as the Gold Discotheque plus an additional five lights, a star cloth and on a six metre wind-up overhead goal post system plus additional sound equipment taking this system up to 2800 watts.

Recommended for up to 200 guests.
Recommended for parties up to 200 guests
A high quality 2800 Watt EV sound system with Subs and a Shure wireless Microphone.
A 6 Metre truss goal post system
8 Moving Heads
3 High powered led cans
6m Star cloth back drop
A Star Cloth Booth
Power Requirements - 3 x 13amp independent sockets minimum
Olympic Nightclub
The pride of the Paul Donnelly Services Limited is our range of mobile disco packages. The Olympic Nightclub will leave your guests stunned by its sheer presence. A combination of sophisticated sound and light systems that will be matched by no other. The Olympic Nightclubs are very flexible in the respect that they can be tailored to your needs, whether you would like one rig over the dance floor itself, or a selection of rigs working together in different areas of the venue. Each job is individually designed for you. We can even supply and lay the dance floor for you.

Recommended for parties from 200 guest onwards.
Karaoke
Karaoke as like the gold and platinum discotheque packages we have updated our karaoke package options.

of our mobile disco packages give you the option to add Karaoke to them. We can provide televisions, projectors and all the equipment and song lists with more than 10,000 song titles to get everyone up and singing all that we ask is that you provide the singers. So whether you are a budding Tom Jones or Kylie we can provide everything for a great night of singing.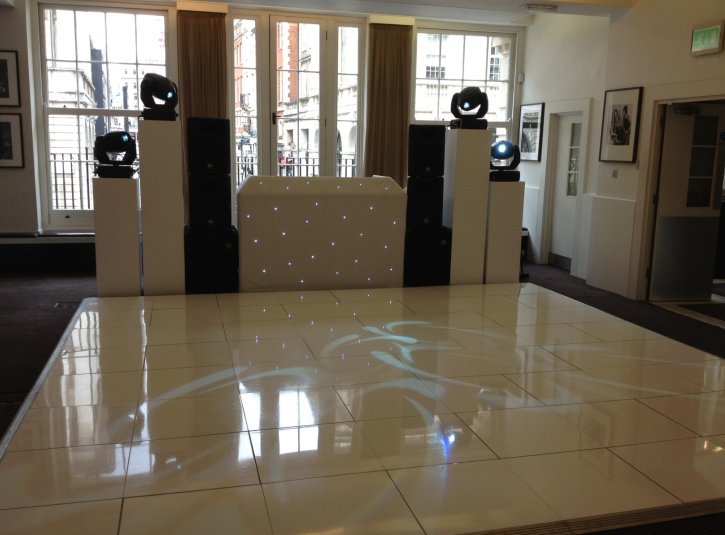 Discos and Karaoke
We have some great offers for a mobile disco and DJ in Wales including Aberystwyth, Tywyn, Barmouth, Porthmadog, Llangollen, Llanidloes, Mortha Borth, Aberdyfi, Tal-y-bont, Tregaron, Wrexham, Corris, Dolgellau, Machynlleth and more. Contact us today for a no obligations quote or to make a booking.
Discos and DJs

Wales Mobile Discos
Mobile Discos in Wales

Discos and Karaoke