Stage Hire
Corporate Events (UK) Ltd is proud to supply the very best in stage systems.

Whether you need a small stage for a presentation or a large carpeted stage that is 2500 square metres Corporate Events UK is the only Stage Hire company you need.

Our Stage Hire systems come complete with steps, solid front and side valances.

Our stage hire systems also can be supplied with hand rails and step rails. All of our outside stages are fitted as standard with handrails.

Our stage hire systems also can be supplied complete with disabled access ramps, multiply amounts of Steps and pa wings. We are now the official distributor for the south of England for Staging, Tiered Seating Systems, Catwalks and Disabled Ramps. Systems are available for sale and hire to any destination in the UK and Europe. Please call 08712 88 44 60 to arrange for a demonstration at your premises from our stage and staging specialist.

We also now have available the new LED Colour Changing Stage - Please click here for more information.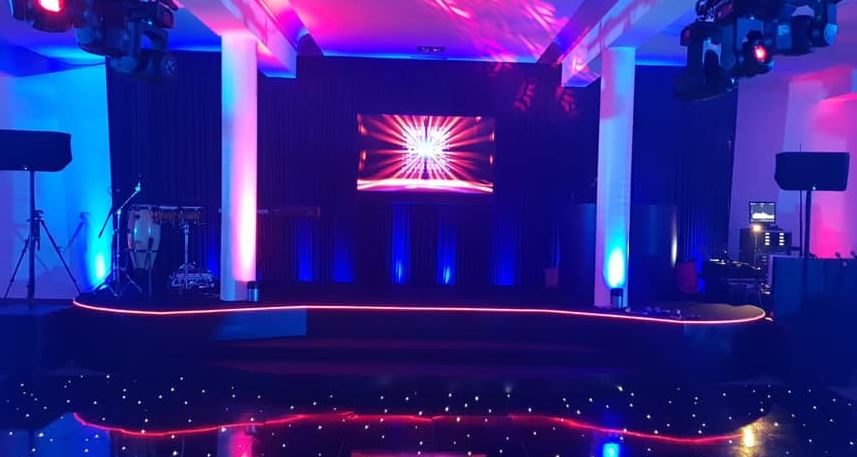 Stage Hire
Corporate Events (UK) Ltd is proud to supply the very best in stage, staging and tiered seating systems that are available for sale, permanent rental and or hire.

Our inside stages are of the highest quality and design so will not look out of place in even the most prestigious of hotels and conference centres. We also stock stage sets complete with projection screens and back drops and much more. Please click here for conference stage packages

Outside stages come traditionally complete with a marquee style roof and walls with the front completely open for easy viewing.

Since Corporate Events UK Ltd added the weather proof stage decks to its hire side, the traditional outside stage hire systems now have options to suit your requirements and budget. For example, if you just want to hire a small stage for outside use you now can without the extra cost of a staging roof system.

Covered Stage, New stage covering system is now in stock. A completely covered stage with an arched cover, comes with rear exits, can hold a stage up to 12m wide and 8m deep and stands nearly 7m high internally. You can even have your own logo added to this. New to stock we have a considerably larger stage cover that has truss points built in giving you even more options for outside stages and staging systems that is ideal for festivals and such like.

Individual stage deck dimensions are 2m x 1m and can be raised by 200mm up to 4000mm as required.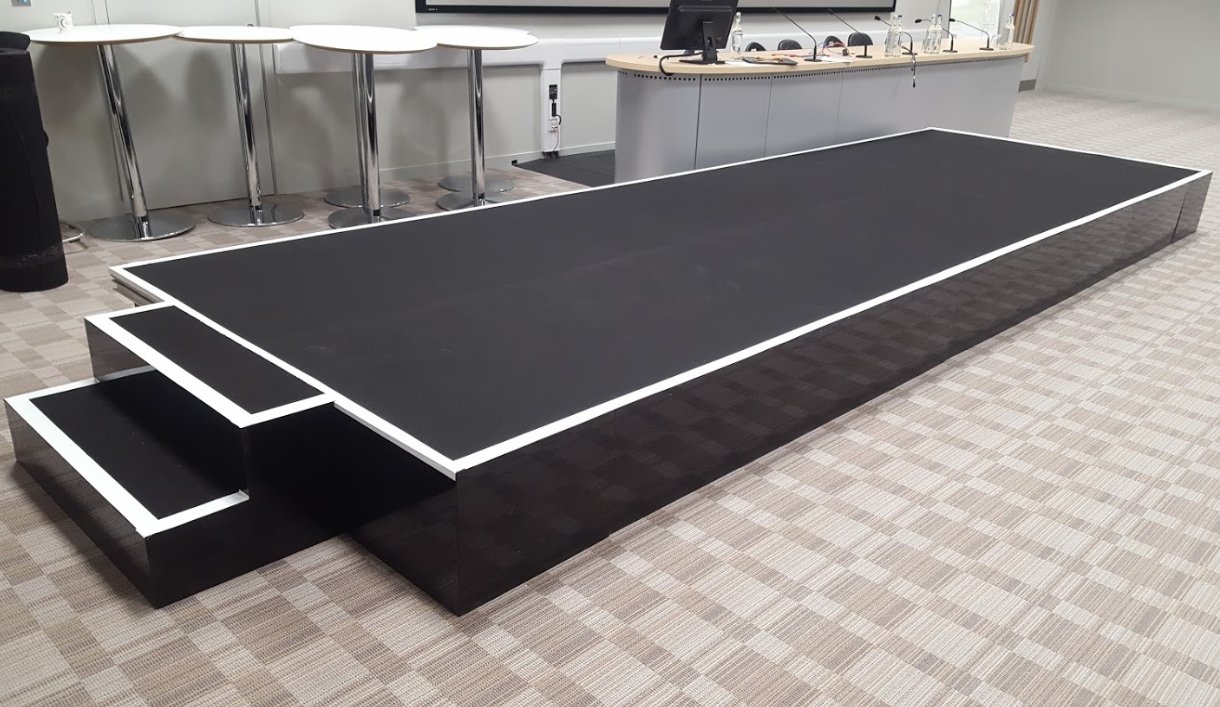 Stage Hire
Corporate Events UK has just added to our stage hire stock 2m x ½m decks. Giving you even more options for your stage dimensions or even extra wide steps.

The new 2m x ½m stage decks are also ideal to be used for things such as bar counters, high presentation displays. steps and remember are completely waterproof so can be used outdoors.

If you are looking for something a bit more special then we can now offer you a vinyl mat dance floor cover for your stage hire these are available in either black or white. Please click here for further information. This is the kind of stage surface that would be on top level theatre stages.

At long last we have had this pearl finished staging system made our Pearl finish decks which are a white finish, which allows light to travel through them. With lighting underneath we can make the stage colour of your choice. These new stage decks are fantastic for making things like bridges over streams and other display platforms.

Remember if you want to go that little bit further with your stage. Our LED panels are what you need ideal for games shows and top level conferences.

All Outside stage hire systems come with hand rails included.

All stages 800mm and higher include hand rails as standard.
Stage Hire

Stage Hire
Stage Hire

Stage Hire
Stage Hire

Stage Hire